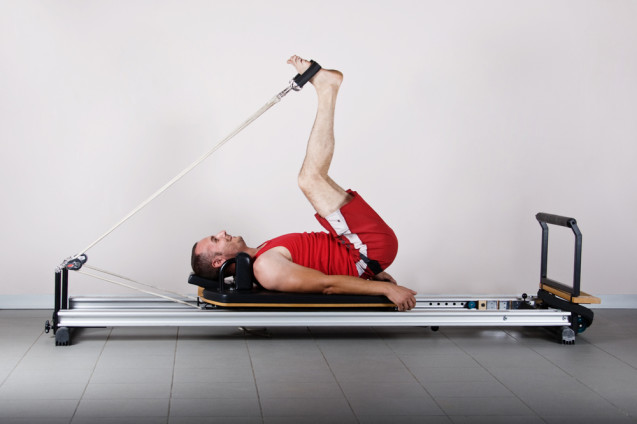 I've been a personal trainer in New York City for four years now, and whenever I tell new male clients that we'll be incorporating Pilates in our training programs, they all say the same thing: "Isn't Pilates for women?"
I tactfully explain to my client that Pilates is definitely not just for women. In fact Joseph Pilates, the guy who invented Pilates was…
A) a dude
B) a beer drinking, cigar smoking boxer who lived to be 84
C) a handyman who turned hospital beds into exercise equipment
You'd think that a man who was half pugilist and half MacGyver would be deemed quite "manly" in the eyes of most males, but apparently not.
Anyway, I think it's important for guys to do Pilates. And if you're a woman who wants your male companion to join you for your next Pilates class, this blog may be for you.
Here are my top 4 reasons why dudes should do Pilates…
1. Six Pack Abs. 
Joseph Pilates had a six pack, both in his fridge and under his shirt. You, too can achieve the latter of the two by incorporating Pilates in your workouts. If you're a guy, you're more prone to developing body fat around the abdominals than women.
Pilates incorporates slow and controlled moving core exercises that sometimes requires you to hold a pose for an extended period of time. This makes for a very intense and different type of (isometric) contraction for the abdominals that a lot of people aren't used to. New contractions/exercises shock the muscle group you are exercising and make for great new results.
2. Flexibility. 
Strengthen and lengthen your muscles! Women are typically 7% more flexible than men in their ligaments and tendons, which means guys need to catch up! During the first few weeks of my apprenticeship before I began teaching Pilates myself, I pretty much became the model for what to do if you were training the Tin Man, or someone who seriously lacked flexibility. Towards the end of the comprehensive program, I was able to perform the exercises and stretches that I originally could not even come close to doing!
3. Rehabilitation. 
I had 
bursitis
 in my hips when I first started doing Pilates, and now that bursitis is simply a memory. Exercises like side leg kick series did amazing work rehabilitating my hips. I later learned that many doctors recommend Pilates for patients who undergo back surgery.
One of my instructors during the 6 month comprehensive program once suffered a broken back and was now able to do some serious core intensive exercises. Another student in my program had a herniated disc and was still schooling me on some of the techniques we were learning. It became abundantly clear to me that Pilates had some of the greatest rehabilitation work I've ever seen.
4. Longevity. 
You can't run everyday and not blow out your knees. Strength and endurance programs requires you to rest in between workouts. You can't grapple or kickbox everyday without injuring yourself somehow. Pilates is one of the few forms of exercises you can do every day, and instead of breaking down your body, you continue to progress in strength and flexibility. 
Bikram Yoga
 falls into the same category.
Photo Credit: Shutterstock.com